Body and Skin Treatments in Lake Oswego
All our body and skin treatments are hyper-customized to treat your skin instant.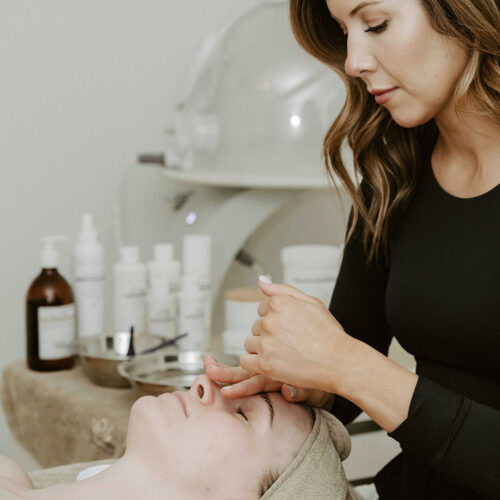 For anyone in search of an ultra-luxe treatment, this 90-minute hyper-customized facial is considered the creme-de-la-crème of our skin treatments in Lake Oswego. Drawing from our collection of luxury skincare lines, we will tailor specific products, serums, masks, and modalities to treat your Skin Instant. No two facials will be exactly alike.
You will experience some of the most beloved products of women, celebrities and editors worldwide, including Valmont, MBR, Biologique Recherche, 111Skin, Environ, La Fervance, and more. We combine manual massage and one or more of our unique modalities; Oxygen Dome with LED or the Remodeling Face Machine. Book a body and skin treatment in Lake Oswego with Luxe Atelier, and you'll leave feeling like royalty. Our hyper-customized approach guarantees it!
Biologique Recherche Facial Treatments
All Biologique Recherche spa treatments are hyper-customized to your Skin Instant and utilize products containing the highest concentrations of active ingredients. These products, called boosters and co-factors, are used only in the treatment room and applied using unique manual techniques for optimum results. You will experience lifting and sculpting with the famous algae Cold Mask and Cyro-Sticks massage. All serums and creams are chosen to target specific imbalances and restore nutrients.
We tailor specific add-ons and modalities, which could include our Oxygen Dome with LED, Liftkiss lip treatment, or the Remodeling Face Machine (RFM). All treatments include special attention to the neck and décolleté. You will be visibly contoured, brighter, and healthy after one of our skincare treatments.
Includes one Biologique Recherché booster. We recommend this skin treatment for first-time clients.
Includes two Biologique Recherché boosters or one booster and a co-factor. This is our most popular skincare treatment! May include use of our LED/ Oxygen dome. **Add our Remodeling Face Machine (RFM) to this treatment for an additional $55. Please let us know at the time of booking if you would like this option. Our skincare experts are dedicated to providing a luxurious and customized experience for your skin treatment.
Includes two Biologique Recherché boosters and a co-factor. An ultra-luxe treatment that concludes with the Remodeling Face Machine to create that red-carpet-worthy, "glow!" May also include use of our LED/ Oxygen dome.
Biologique Recherche Micro-Puncture Treatment
This 90-minute powerful skin treatment activates collagen production using superficial micro-stimulations that penetrate the epidermis. These stimulations help the skin regenerate itself by causing perforations to the skin using micro-needles. Our highly active serums penetrate optimally with the use of our Micro-Puncture Lab. The skin is better moisturized, regains its elasticity and smoothness, and appears revitalized and plumped. This treatment is non-invasive and doesn't require any numbing agents or downtime.
Additional Facial Treatments
111Skin Black Diamond Facial

$295

An opulent firming treatment that harnesses the power of the London-based 111SKIN's most potent collection to promote a youthful, sculpted appearance. The 111Skin Black Diamond line uses fine diamond particles as a method to aid the delivery of clinical-level actives deep into the skin. Prepare to be lifted and visibly transformed with a brighter complexion, where discoloration and the advanced signs of aging are immediately lessened.

This treatment is perfect for a big night out, or just because! Treat yourself to one of the most magnificent skin treatments in Lake Oswego, because you deserve it. (Preformed by Marissa only)

Environ Facial

$195

The Environ Cool Peel Technology is a revolutionary approach in the concept of skin peeling. Traditional treatments are based on the destruction of the skin cells. The Environ Cool Peel does not put strain on the skin, but rather supports the effects of the natural processes of healthy skin. Environ Cool Peels are ideal for hydrating and refining; they repair cells and encourage cell exfoliation revealing fresh and youthful skin. The treatment is especially effective to treat scarring, rough textured, sun damage, acne and rosacea.

Teen Facial

$150

Skincare is not a luxury but a healthy habit that should be developed as early as possible. While teens don't have the same skin concerns as adults, starting a health skincare routine in adolescence can help keep the skin looking young and radiant well into adulthood.

Every facial at Luxe Atelier begins with a skin analysis to assess the skin's type, tone, and texture and to identify any ongoing skin conditions. Each treatment includes a thorough cleanse, exfoliation and masque customized to the individual's needs. At the conclusion of the treatment, the esthetician will discuss at-home skincare and make specific product recommendations based on skin concerns.

Facials are an opportunity for teens to learn healthy skincare habits they can build on for the rest of their lives. By improving the health and appearance of their skin, facials can help improve self-esteem, especially in teens who struggle with acne.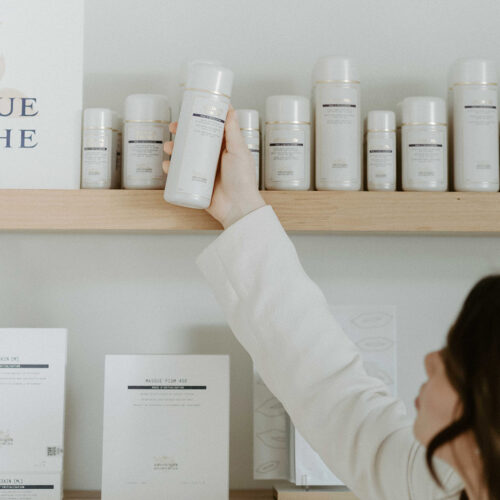 Consultations
Skin Instant Lab Consultation
Sit down with a Biologique Recherche certified specialist to talk about your skin. We use a unique diagnostic tool, the Skin Instant Lab©, that will take a "snapshot" of your skin to measure hydration, transepidermal water loss, elasticity, pigmentation and more. This highly personalized skin analysis helps us provide a precise skincare prescription best suited for you. We will provide an in-depth explanation of "how to" and what to use at home. You will leave with all of your questions answered!
Note: This consultation is not needed if a treatment is booked.
Book one-on-one time with one of Luxe's Master Estheticians. We will talk through your skincare concerns and review your goals virtually. You will receive personalized advice, including a curated selection of products to use at home to treat and perfect your skin. We are happy to help you purchase products from our luxury skincare brands. We ship all over the United States and free shipping on orders over $100.
Luxe has spent years developing a reputation as a premier provider of skin treatments in Lake Oswego, and our hyper-personalized consultations contribute to that reputation. We want you to feel comfortable and confident in your own skin; book a treatment with us today.
BOOK ONLINE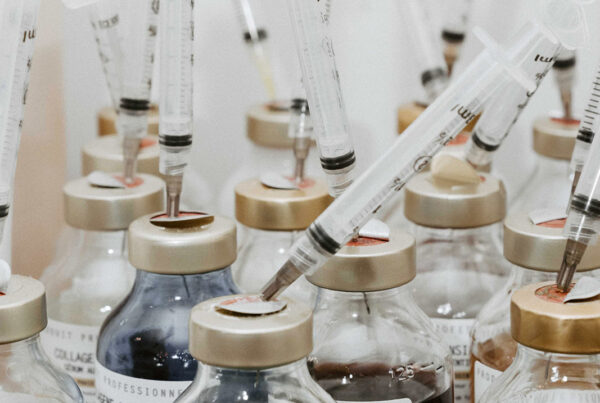 What is a skin instant?
Everyone has different Skin Instants and everyone's personal Skin Instant constantly and dramatically evolves within a single day and over a lifetime. 
Abandoning "one-size-fits-all" categorizations that label skin as "normal," "dry" or "oily," we acknowledge that the skin can be a combination of all of these and requires different treatments on any given day. Seasonal transitions also impact the needs of our skin and the integrity of our skin care routine. This is why we recommend a minimum of 4 treatments a year, so we can assess your Skin Instant and maintain your cumulative progress.
No two facials at Luxe are identical. We take all factors into consideration to properly customize treatments to be both instant and lasting, even for particularly imbalanced Skin Instants. 
Schedule Your Consultation
It's never too early or too late to start taking care of your skin. Ready to take the first step?